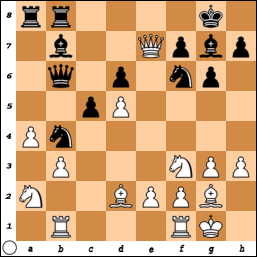 This position I got in a league game in 2005 against my friend and great guy Robert Lagerman. We've had some interesting games in the past and this one was also in that category. Robert has more or less played Benko his whole career but shied away from it against me, often opting for the Benoni because of and early Nc3 line that I used to be good at and scored some convincing wins in. So we could say he surprised me in this game by returning to "beaten paths"!?
Anyway in this position I made a pretty good calculation. White should play
1.Nxb4!
Now black's only attempt is
1...Re8
trying to trap the queen as 1...cxb4 2.Ng5 followed by Ne4 keeps two healthy extra pawns and black should go down more or less without a fight. Here I have the great move
2.a5!!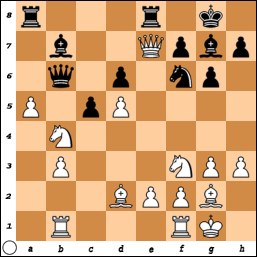 Black must recapture with the rook. The queen has no squares that doesn't lead to exchanges or the loss of the d6 pawn so
2...Rxa5 3.Nc6! Rxe7 4.Bxa5 Qb5 5.Nxe7+ Kf8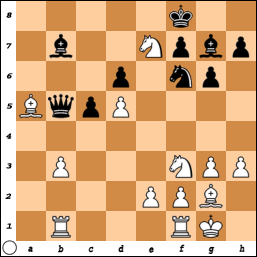 Last moves have been fairly forcing and now I had calculated that
6.Bd8
should keep the extra piece. But the computer finds the brutal 6.b4!! which wins. 6...Kxe7 7.bxc5 Qxa5 8.Rxb7+ followed by Ng5 and black stands horribly.
6...Qd7
there doesn't seem to be an escape for the bishop but...
7.Nc6!
now if 7...Bxc6 then 8.Bxf6 and then I take the bishop on c6.
7...Nxd5 8.Na5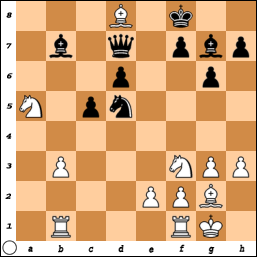 Next move I get the bishop out of dodge! It is true white retains better chances but not as simple as I thought. Anyway it would have been fun if I had played this and maybe I would have found b4!! but in any case I would never have lost here and probably won. So going back to the original position....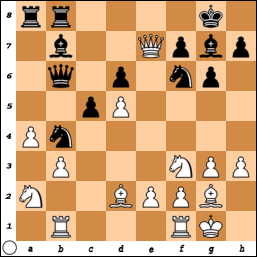 I was so excited when I saw all this and I would save my bishop with tactical means that I played
1.a5??
mixing up the move order (1.Nxb4 remember!) and got hit with
1....Nbxd5!
and black got a better ending and I suffered and lost in 50-60 moves ;-(